07.2012 - Check out this handsome boy! This is Rufus.
He needed a ride getting to and from his surgery at Clark Road Animal Clinic yesterday. Rufus is a 9 year old rescued Bloodhound- his mom Deb rescued him 6 years ago and he has had her heart ever since! As you can see, he needed to have a fatty tumor removed from his shoulder area- it had just gotten too large and was starting to restrict his walking.
Since mom and Rufus usually sport around in a Mini Cooper, she thought that it might be best to ask Vet Care Express for a ride on surgery day - just to make sure he was most comfortable. The surgery went great - the tumor weighed over 7 pounds! Rufus was ready to go home to rest and recuperate. We're wishing you a speedy recover, Rufus, and we'll be looking for you and mom in your Mini Cooper real soon!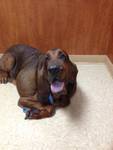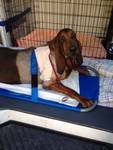 ---
12.2011 - Vet Care Express helped South Florida Shih Tzu Rescue with delivering puppies!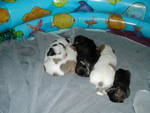 ---
12.20.2011 - Sarasota/Manatee Pet
Pet CPR & First Aid Class Taught by Cheryl Brady of Vet Care Express Saves a Precious Puppy's Life! Click here for the full story.
---
11.2011 - London-Orlando-Sarasota
8 hours from London to Orlando and 3 hours from Orlando to Sarasota in the Vet Care Express ambulance...a non-emergency transport with three smilin' faces...Welcome our newest Americans and three great riders...oh...and their Mom and Dad had smiles too...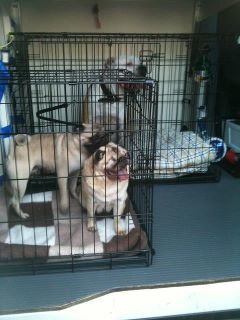 ---
11.2011 - Yay for Seamus (Shaymus) finally going home!
We had to transport this handsome, 150 lb boy to the hospital Saturday night because he was not eating and not able to stand. After many tests and a couple of days in the hospital, he is doing so much better that they sent him home!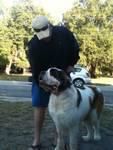 ---
02.11.2011 - Maddux Tampa Bay News Wire
"Cutting-Edge Veterinary Ambulance Saves Brother and Sister"
---
Kacey Horn
We helped save Kacey after he had been hit by a car.